Just a few weeks ago I made a hand-painted paper collage 'Folk Heart' - a heart shape composed of flowers, inspired by traditional Folk Art embroidery from Eastern Europe.
It didn't take me long to 'create' lots of Folk Heart products for my Zazzle store.
Here it is on a cushion/pillow -
Then I went on to make coordinating patterns digitally and soon the products in my 'Folk Heart' collection were growing into the hundreds, thanks to the new product lines that Zazzle introduce most Fridays!
Finally, I put some of the 'Folk Heart' patterns together to form a border - which immediately found its way onto lots of products, such as this Coffee Mug -
My 'Folk Heart' collection on Zazzle has expanded to more than 500 gifts and greeting cards, so if you fancy a browse through all of them, just click
HERE!
I've selected the iPhone 6 cases to showcase the various patterns in the collection here.

But most of these patterns are available on other Zazzle products, including iPad and Kindle cases and laptop sleeves.
And don't forget that many of them are ready for you to personalize: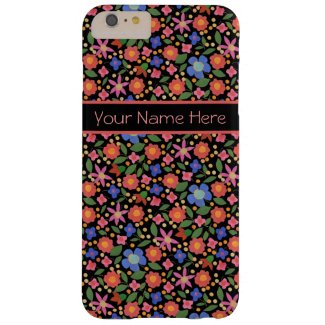 Folk Art Style Floral on Black iPhone 6 Plus Case by poshandpainterly
Browse for iPhone 6 Plus Cases at Zazzle
(sorted by price, low-high)
Enjoy!