A recent BBC series about the ageing process demonstrated, through an experiment carried out on six celebrities in their late 70s and 80s, that keeping active and independent in our later years and even continuing to work, generally helps us to keep mentally, psychologically and physically fitter and

more likely to live longer.
So most of my 'Retirement' greeting cards are not so much about 'congratulating' the retired person as inspiring them to forget about their age and continue with the things they always enjoyed or maybe start some new hobby or even career -
These photographs of the beautiful scenery of Wales would surely inspire an older person to get out and about in the countryside!
These watercolour and soft pastel Retirement cards are of the more traditional kind -
And this one could also be for someone changing jobs -

These greeting cards are based on one of my favourite quotations from George Eliot
,
'It's never too late to be what you might have been.'
And here are some gifts on the same theme -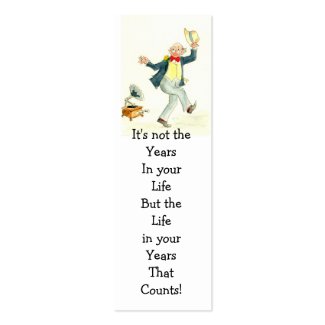 'Life in Your Years' Bookmark by helikettle
Browse bookmark designs at zazzle.co.uk

Retirement Ringer Mug
by
helikettle
Browse more
Mug Mugs

Magnet Retirement
by
helikettle
Make
custom printed magnets
at zazzle.co.uk

Men's 'Jogger' T-shirt
by
helikettle
Design custom tshirts
at zazzle
These and more than 1,000 other Greeting Cards are all available from my Greeting Card Universe store and you can browse the gifts in my Zazzle store.
.